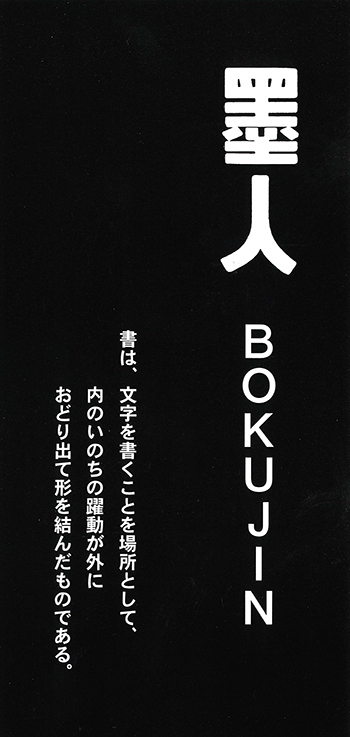 Bokujinkai (People of the Ink Society) was formed by Morita Shiryū, Inoue Yūichi, Eguchi Sōgen, Sekiya Yoshimichi, and Nakamura Bokushi, under the auspices of Ueda Sōkyū on January 5, 1952, at Ryōan-ji Temple in Kyoto. The group's intent was to sever ties with tired customs of calligraphy and embark on creating the true form of sho or calligraphic art. The members of the group mastered the classics as their foundation and devoted themselves to the study and pursuit of sho through their exchanges with Western abstract painters and encounters with aesthetics and Zen philosophy. In time, the group came to embody the mottos, "sho is formed by writing characters" and "sho is the movement of life and the manifestation of the way to live."
Today, the group's activities include an annual symposium commemorating the group's founding on January 5, an annual spring exhibition in April at the Tokyo Metropolitan Art Museum, a summer training session (to create new works and present new research by members), and an annual autumn exhibition at the Kyoto Municipal Museum of Art. The group also continues to actively promote itself throughout Japan and publish its monthly journal Bokujin (People of the Ink), which now has over six hundred issues.
Bokujinkai is a group that engages in works of sho or calligraphic art with the view of realizing their aspirations after a life of integrity rooted deep in the depths of human nature. While pursuing such a way of life as ours in the field of sho, we hope to build a world full of mutual trust through a heart-to-heart communion inspired by our members' works. Regardless of region, environment, or historical background, those who share this wish with us are all our friends with whom we would like to work together. Presently, our activities include the publication of our monthly journal Bokujin (People of the Ink) and holding exhibitions and workshops to study sho. Our group is based on mutual inspiration and respect so that each of our members can live to the fullest by exerting their true abilities.